Don't you just love chicken? Chicken is such a versatile meat. You can make chicken salad, chicken teriyaki, chicken soup, chicken sandwiches, chicken breast, chicken hash, chicken chili, and let's not forget health-giving chicken broth! You can serve chicken roasted, grilled, and even fried. So many options with just the humble chicken.
Now that you know you want some of this wonderful meat, where do you get some that is both delicious and safe to eat?
Bechard Family Farm has been raising quality meats for families like yours for 18 years. Our meats and also our broth bags fit right in with eating plans such as Whole30 and GAPS.
Our chickens are available FRESH through the weekend after processing (see dates below). In between processing dates, we strive to maintain a good supply of FROZEN whole chickens, breast meat, leg quarters, wings, and broth bags available both at Bechard Family Farm and at Farmers' Market of the Ozarks.
Cut-up chickens are by special order and need to be ordered for specific processing dates.
Raised on our chemical-free pastures, given non-GMO feed, and processed with water only, you can rest easy knowing that you will be providing safe-to-eat meats for your family.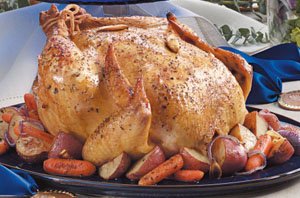 How Do You Use Our Order Form?
The chart below provides a drop down menu for each pick up date/location.
1. Choose your desired date/location (ie: 6.14.18 farm pickup)
2. Choose your chicken option (whole, cut up, breast meat)
3. Click "add to cart".
This will take you to a shopping cart where you can adjust your quantity.
If you still have more shopping to do, there is a continue shopping button in the upper right corner which will bring you back to this order page where you can repeat the process with your next choice.
Completing this process and paying your deposits secures your order. We will send you a confirmation email when we are notified of your deposit.
Your deposit is deducted from your total when you pick up your meat.
Thank you!

Fresh
Pick-up day at the Farm
13700 Athens Road. Conway, MO

whole chicken $4.75/lb*
pre-ordered price

Please see pricing chart below

Fresh
Farmers' Market of the Ozarks
from 8 AM to 1 PM

whole chicken $4.75/lb*
pre-ordered price

Please see pricing chart below


Thursday
June 14, 2018
Available at the farm
Saturday
June 16, 2018
Available at Market
Thursday
September 13, 2018
Saturday
September 15, 2018
Thursday
October 4, 2018
Saturday
October 6, 2018
Thursday
October 25, 2018
SOLD OUT
Thank you!
Saturday
October 27, 2018
SOLD OUT
Thank you!
CHICKEN PRICES
all prices subject to change
OPTIONS:

PRICES

:

Notes:

1) CHICKEN, whole

$4.75/lb pre-ordered
April

thru late October

2) CHICKEN

,

cut-up

add $3.00 per bird
we will cut your chicken cut into 6 parts
(boneless breasts, wings, leg quarters. also back & giblets)

3) CHICKEN BREAST

$13.85/lb

1.2-1.75# (1 package will feed 4-5 of us)

4) LEG QUARTERS

$4.95/lb

2 per package ~1.5# per pkg.

5) CHICKEN WINGS

$4.95/lb

usually 6 wings per pack

6) CHICKEN LIVER

$3.00/pkg

AS AVAILABLE - 1/2 pound packages

7) CHICKEN BROTH BAG

$6.00 per bag

includes 2 chicken backs and 4 chicken feet (about 3#)

8) CHICKEN FEET

$3.00/lb

small bags of clean chicken feet
Questions? Call 417-589-4152 or visit our Contact Us page.
© 2000-2018, Bechard Family Farm