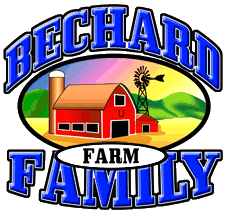 Home
About Us
2015 Newsletter
Turkey Note
Turkey Thawing
Why Pasture-Raised Meats?
Chicken
Turkey
Beef
Lamb
Pork
General Store
Merchandise (non-food items)
Recipes & Tips
Prices & Schedule
Around the Farm
Links

In the News
Where to buy our Jams
Where to buy our Soaps
Order Meats
Order Turkeys
Lamb Deposit
Order Soaps
Order Jams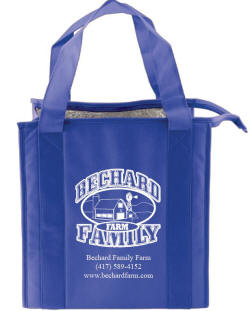 Perfect for farmers' market!
Get your own Bechard Family Farm insulated tote for only $6.00
and get $1.00 off every time
you buy from us!*

*Must bring bag.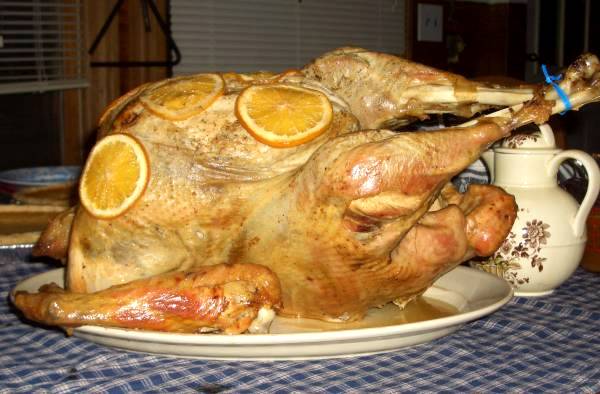 A very IMPORTANT note regarding turkeys
Pasture Raised Turkey
Pasture raised turkey is a delicious source of protein year round. Like our chickens, our turkeys are raised out on pasture, giving them an exquisite flavor. They are naturally moist and juicy. Studies have shown pasture raised turkey to be rich in CLA, omega-3 fatty acids, beta carotene, and vitamin E. Pasture raised turkey is the cleanest and healthiest source of protein you will find, making our turkey an excellent choice for healthy meat.
Turkey is a delicious meat that can be made into many, many meals. We generally roast our turkey and have a feast of roast turkey and all the fixin's. After that, we have several dinners of sliced turkey. When it seems one couldn't possibly get one more shred of meat off the bones, we cook down the carcass to make a fabulous broth and there is always far more meat left on the bones than you would ever expect. At that point, we usually get at least two dinners of turkey soup. In our opinion, turkey soup beats chicken soup for flavor, hands down! We have a very large family and can still get this kind of mileage out of a turkey. I would say that one turkey could feed the bunch of us for nearly a week. Now, that's value for your food dollar!
We raise the turkeys right here on the farm and then as a family we process them at the appointed time. This means that the turkey you buy from us isn't trucked across the country in a smelly diesel semi-truck (with several hundred other birds) to get to a processing facility. That means our turkey meat hasn't been exposed to highway and automobile pollutants or the stress of being transported. That means our turkeys are happy until the very end. You are buying a healthier meat (if only for those reasons alone) and you will be supporting your local economy, not one from "who knows where??".
Our family butchers the turkeys here on our farm. You can pick up your fresh birds here at the FARM or at one of our scheduled deliveries in SPRINGFIELD or MARSHFIELD.
Growing Turkeys
Did you know that it takes about 16 weeks to grow out a turkey on pasture? We start our Thanksgiving turkeys around the end of JULY! They are raised out on our fresh pastures in bottomless pens until they are 16 weeks old. We feed them a custom mix of GMO-free grain and organic mineral supplements to insure that you get the healthiest bird possible. They get lots of fresh country air, sunshine, bugs, and green grass.
You MUST Pre-Order your Turkey
Everyone loves turkey for the holidays! Here is your chance to order locally-raised, healthy, FRESH, never-been-frozen, all natural, pasture raised turkey for this season's festivities. When you order a Bechard Family Farm turkey, you are sure to have the best tasting, most healthy turkey of a lifetime.
If you want to be guaranteed a turkey for your holiday festivities, you must pre-order to be assured that you will get one. Every year, we have to turn away people who didn't pre-order a turkey. Don't be one of those people. A $10 per bird non-refundable deposit will secure your order. The balance of payment is due when you pick up your meat.
We do NOT raise turkeys for Christmas. If you would like a Christmas turkey, be sure to order it now.
Turkey Sizes
Historically, our turkeys have dressed out anywhere from 14# to 25#. Once in a while, we will get one that is 12#, but we can't count on it. You can request a specific size turkey, like "14 lbs", but please remember that when you order a turkey, we cannot guarantee a specific weight. Please do not request a turkey smaller than 14#. We will not be able to grow a bird that size. You can ask for "smallest" and we will do our best to please you. Our birds are raised outdoors on pasture. They do not come from a mold. Please be willing to take a turkey that is within 3# of your requested weight. When you come to pick up your bird, we will work with you to get you as close to the size you want. We believe that you will be happily matched up with your turkey.
Pick-up
We offer several different pickup options. We offer a special "butcher day only" price for birds picked up here at the farm.
Here are your pickup options:
1) You can pick up your turkeys here at the FARM on Thursday, November 5, 2015.
2) For the THIRTEENTH YEAR in a row, we are thankful to partner with MaMa Jean's Natural Market in Springfield.
Customers will meet us at MaMa Jean's Natural Market at 1110 E. Republic St. on (date to be announced).
3) For the SECOND YEAR now, we are happy to partner with Tiff's Natural Market in Marshfield.
Customers will meet us in front of Tiff's Natural Market at 100 S. Crittenden (on the square in Marshfield)
on (date to be announced) to pick up their turkeys.
We also offer Springfield delivery options, and one in Marshfield. In Springfield, you will be able to meet us at the south MaMa Jean's Natural Market store on Republic St. We will bring the turkeys into town and they will be clean and ready to put in your freezer or oven. Customers meet us in the parking lot of these fine establishments at the appointed time and pick up their birds. Please note: we do NOT sell our birds to the stores. These stores are simply being kind enough to provide a meeting place for us to deliver and for you to pick up your turkeys.
Be sure to visit these fine stores. These stores sell local products as much as possible; you're sure to be pleased with their friendly staffs and great selection!

Click here to order your to order your FRESH turkey today!

A very IMPORTANT note regarding turkeys
(it might be a good idea to open this in a new screen).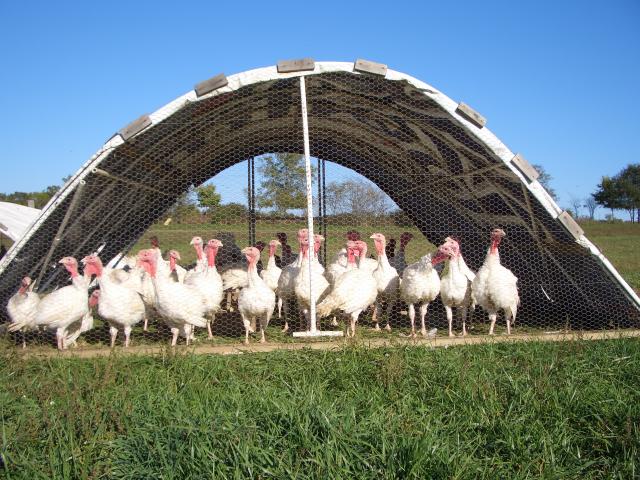 Turkeys are very friendly and social.
They all flock to the front when we come near.
You can see they're getting lots of fresh air and green grass.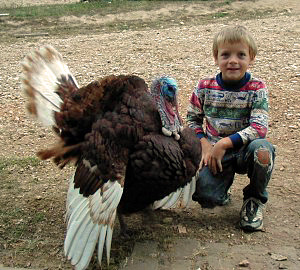 This was our pet turkey "Jack"
(You get to guess which one is Jack. :))
Visit our Recipe page for some tips on cooking your
pasture-raised TURKEYS!
For a summary of our products, prices, & practices,
please feel free to print off our Newsletter!
Home About Us Meats Chicken Turkey Beef Lamb Pork Milk Baked Goods Jams Soaps
Recipes & Tips Prices & Schedule Around the Farm Contact Us Links Order Meats Order Jams Order Soaps
© 2000-2015, Bechard Family Farm
All photos, images, text, and wording are the exclusive property of Bechard Family Farm
and may NOT be used or reproduced without permission.
October 2014